It's Saturday. Fox Business Network. The show is called The Fox Docs. Biz Whiz Dr. Dani Babb is talking to a caller who's not getting the results from his Web site that he should. She tells him to optimize his site to come up in the search engines. Suddenly, as the theme music comes up to go into a hard commercial break, the host asks "so how do you do that?" With six seconds to explain, she said what most people who know a little bit about SEO believe: "Meta data!" Make sure your Meta data is correct." Cut to commercial.
Knowing there was so much more to SEO, I used Twitter to get in touch with Dr. Babb and offer her some of what we've learned (and continue to learn) over our years. After several subsequent emails this week, she was armed with lots of new-found knowledge. So on this week's show, the very first caller was rewarded as she used my bullet points (and credited Trivera) to explain how to get his site to come to the top, avoid the expense of a Paid Placement option for his keywords and just augment organic placement with Pay Per Click. And the host responded, "Brilliant!" (see video below)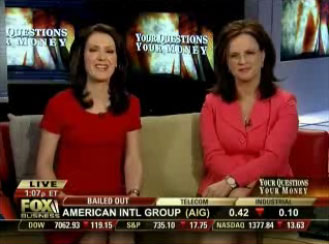 But as I watched, it became obvious that SEO is one of those "rocket science" things that will make most peoples' eyes start to glaze over. As much as you wish getting a site to come up Page 1, Position 1 in the search engines was as simple as watching a business show and getting tidbits of information, it's unrealistic, unlikely and probably impossible.
The Internet, and the billions and billions of pages on the Web continue to grow by the second. And the search engines need to get better and better at determining which of those pages deserves to come up at the top of searches. So they constantly spider and index every site, every page and every link, compare each to all the other information they gather about every other site on the Web and use complex algorithms to determine how high or even if a site should come up for keyword searches.
Unfortunately, those algorithms are kept more secret than the recipe for KFC. That means that even *I* can't give you a definitive answer... nobody can. Especially not in 6 or 60 seconds on a business show. But those of us who have been doing this for a awhile take the broad guidelines that Google and the others do give us, combine that with a lot of detective work, much trial and error and networking with others in our field and use it all to come up with strategies and tactics that work..realizing also that what works today may not when Google changes their algorithms.. which they do all the time.
But here are the general tips I gave Dani:
There are some that claim that Google doesn't even index Meta Data at all for their search results. I was trying to figure out why a particular site was beating one of our clients in ranking at Google, and checked out their "Keyword" Meta Data. The ONLY thing in it was: "Keyword Meta tags are totally useless." I don't completely buy that, but rather I'm convinced that Google checks the meta data on a page, and then compares it to the visible text on the page. If they jibe, the site moves up for the words and phrases that, together, describe what that page is about.
But there are a lot of other factors, way too numerous to mention. Here are just a few:
Page titles (what shows up a the top of your browser when you're viewing a page)
Actual file name of the page (what shows up in your URL bar),
File names of embedded images (and the alt tags for those images),
Text links to other pages within the site (and whether the words that are clickable actually send you to page that are about that specific text - Google is smart enough to figure that out),
How many outside sites link to yours,
How long your domain name has been registered, and how many years in the future it is currently registered for,
How frequently the content of the site is updated
Whether or not your webmaster appears to be trying to jack the system to get the site to show up higher than it should.
That last one is critically important, because while all the other ones help you move up, that last one can force you down, or even get a site de-listed altogether.
Bottom line is that it's not easy...virtually impossible to do yourself. It's also not an event... it's an ongoing strategic process. And most entrepreneurs are too busy running the other aspects of their business to spend the necessary time to learn this and do it right. If showing up in the engines is critical to people finding you, the only silver bullet is finding someone really good to do it for you. It's like a good accountant, a good banker or a good lawyer... your SEO person is worth their weight in gold.
(By the way, if you are a business owner, and haven't caught the The Fox Docs show yet, you need to. Dani Babb and John Rutledge are amazing, and you'll find yourself waiting for every episode for the great information you'll learn).