What an exciting time this is to be in the marketing/technology business! There's not a day that goes by that doesn't demonstrate the innovative nature of the industry. I've always had a curiosity about big data and search, and my curiosity lead me straight back to school for Information and Data Science. Here's how I'm applying my new education for Trivera's clients.
In technology "physical things" keep getting smarter - cars, robots, drones, refrigerators, watches, crockpots, and even your light bulbs are smarter. 2018 is the start of another technology disruption wave. Big tech giants are providing ways for people to retrieve information without having to type. The use of smart voice-enabled devices such as Google Home and Amazon Echo is exploding.
Here's the list of major voice-enabled assistants we are using today:
Microsoft Cortana – Available on Windows, iOS, and Android.
Amazon Alexa – Voice-activated assistant that lives on Amazon audio gear (Echo, Echo Dot, Tap) and Fire TV.
Google Assistant – Google's voice assistant powers Google Home as well as sitting across its mobile and voice search capabilities.
Apple Siri – Native voice assistant for all Apple products.

Ok Google, where can I buy…"
Millions of people are now using voice assistants to play music, get weather forecasts, set thermostats and make reservations. They're also starting to use them to shop. Wal-Mart and Target got this message early. Both companies teamed with Google to make it possible to shop for some of their items via Google Home and other devices powered by Google Assistant. In October 2017 Target announced you can shop with the Google Assistant on your phone. The number of major retailers now allowing you to shop hands-free is growing daily.
It has always been crucial to be on the first page of Google's or Amazon's search results. As more and more businesses follow that lead in voice, it's going to matter even more if you're one of these first or second recommended products.
What does voice mean for your business?
"Being active and trying to invent new things helps Amazon see the future a little better. To me, 'invent the future you want to see' is a useful metric in how to protect yourself from the Ubers and AirBnBs of the world." - Nick Johnson, Amazon Robotics
Marketers who are on the forefront are trying new technologies and new ways to earn business, so they can be less likely to be taken by surprise as cab companies and hotels were when Uber and Airbnb took over.
What does voice search mean for your website?
Voice recognition is the future. And the future is now. Google's CEO, Sundar Pichai announced during his Google I/O keynote that voice-led queries already account for 20 percent of mobile searches, and will reach 50% by 2020.
Purchases made from a mobile device account for as much as 50% of transactions for e-commerce stores. Voice search will speed up this number in 2019.
It's predicted that brands that redesign their websites to support visual and voice search will increase their online revenue by 30% over the next 4 years.
Learning and Experimenting
Now is the time for marketing leaders with e-commerce responsibility to experiment. Updating your website for voice is only the beginning. CMO's need marketing companies to have a multi-disciplined team of advanced thinkers who are ready to integrate the latest technology. Marketers need to be data-obsessed and have a data-driven approach to marketing. Staying ahead of the curve relies on keeping knowledge as current as possible and continuous learning.
Smart marketers will be building this critical element and its impact into their 2018 budgets.
About Jessica Dunbar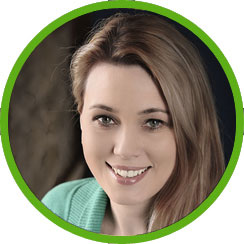 Jessica is Trivera's organic SEO wizard. With her years of experience, she has enough knowledge of technical SEO to be one of the most effective black hat SEO's in the world. Fortunately, she uses her superpowers for good, helping Trivera clients achieve their digital marketing goals.

Photo Credit: Jessica Dunbar