One of the great things we do here at Trivera is analyzing the effectiveness of our work using Google Analytics. When set up properly, we can do more than just tell you how many impressions your digital ads received - we can tell you what people did after they visited your website. We can tell you which images and links on individual pages are being clicked on. We can tell you which search terms people use to find your site, what they look for when they arrive, the path they take to conversion (or conversely, where they typically abandon the process).
Google Analytics and the other tools we use do a great job of telling us what people do. Unfortunately, the numbers can't tell you WHY people do the things they do. That's where a deeper understanding of your business and your target audiences comes in. By combining analytics tools with a strong discovery process and research, we can analyze your data through the lens of a thorough understanding of your customers and your business. We approach this analysis two ways. One of the ways we analyze your company is by using archetypes. The other is by using research to construct personas for the people who will use your website.
Because marketing is both an art and a science, we will always have to make assumptions and take chances. However, by looking beyond the simple metrics of ad impressions or ad clicks, we can follow people all the way through to your website and understand what they do AFTER they've seen your ads and arrive at your website. This can help inform decisions about website design changes, possible content topics, social media posting and integration, possible new business opportunities, even (when the time comes) how to iterate your current site into something more helpful for your current and prospective customers. When we can develop smart ideas, we can support your business goals and drive revenue increases for you.
About Christina Steder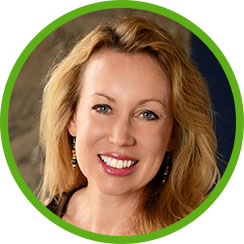 With 15+ years of experience in consumer product, professional service, and nonprofit marketing as well as brand strategy and client service, Christina provides strategic direction for our clients - linking their ongoing online and content marketing needs to business goals and ROI.

Photo Credit: Adobe Stock