Customers Are Curious, Demanding, and Impatient
Google certification and partnership for agencies has its benefits. One of them is being able to host Google Partners Connect events for our clients and prospects. Our event this week focused on local search. Our Google trainers spent a lot of the discussion talking about Google My Business, which can benefit any business, but is essential to locally-based companies such as restaurants, professional services, or any physical business that makes face-to-face contact with customers. Attendees benefitted from a lot of helpful information about why search is important for local business and what's new.
Here are a few of the takeaways:
1.) 87% of smartphone owners turn to search first in a moment of need.
This is a significant statistic that should have every business owner seriously thinking about their search presence strategy. Is your business visible at research and decision moments? Google shared research findings showing that today's customers are Curious, Demanding, and Impatient. To meet the demands of today's customers, your business must do three things. First, you need to have content that answers specific, detailed questions. Using an SEO strategist can help you to discover what search terms potential customers are using to ask the questions you can answer on your site. Second, you must have a fast website that is mobile friendly. Three seconds is the recommended page load time. And finally, make it easy to be found. Your website should make it easy to place an order, to make a reservation, to schedule an appointment. Do whatever you can to make it doing business with your company easier than your competition.
2.) 30% of all mobile searches are related to location

Google research shows that one-third of all searches are related to location. Remember, customers are impatient. They want what they want and they want it now.
To facilitate this sense of urgency, prospective customers want to know if you're open at that exact moment, what your hours are, and to find out if you are "near me." Your customers are searching for you at the last minute to meet immediate demands. A local search strategy, including Google My Business can help you be found.

What is Google My Business (GMB)?
By definition, Google My Business is a tool for businesses and organizations to manage their online presence across Google, including Search and Maps. For example, if you search a company name the knowledge panel has common information for quick reference such as address and hours. If your business has not made the most of a Google My Business listing, here's how you can get started.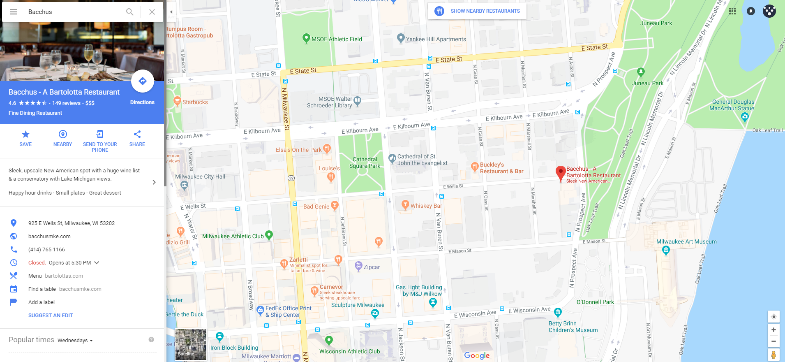 Claim Your Business on GMB
Visit https://www.gybo.com/business to get started. Follow the steps to either claim a listing or set one up. Make sure to get your listing verified to unlock additional features. Once verified, fill out every option possible. Google shared some stats that are compelling reasons for having a complete listing including:
2.7x more likely to be considered reputable
70% more likely to attract location visits
50% more likely to lead to a purchase
Our client, Bartolotta Restaurant Group, has excellent examples of how to make the most out of GMB for their multiple locations throughout the Greater Milwaukee Area. The Bacchus downtown Milwaukee restaurant has a robust listing including address, hours, menu, reservation links and upcoming events. Customers are encouraged to leave reviews and their 4.6-star rating is displayed not only in the information box, but in organic results.

What's new with GMB?
Google has recently added two new features including video uploads and posts. As of January 2018, videos can be uploaded to your Google My Business listing. Video is a powerful way to convey information and engage an audience. Video maximum length is 30 seconds and file size up to 100 MB with a resolution 720p or higher.
Postings through Google My Business lets you publish your announcements, events, products, business info and offers and services directly to Google Search and Maps. By creating posts, you can place your timely content in front of customers when they find your business listing on Google.
3.) PPC and SEO are still key components for any Local Business
Local Pay-per-click (PPC) such as AdWords and Bing Ads can show your ads based on the geographic area you service. You can restrict your ads by county, city and even ZIP code. Text ads are triggered by keywords. For local PPC, some keywords are followed by the name of the city, such as "financial advisor Milwaukee."

In addition to using Google My Business, local SEO includes organic search results and business listings. Knowing how to use local ranking factors such as having a consistent NAP (name, address, phone) can help you achieve top results and get featured in carousel and other rich snippet opportunities.
During this Google Partner Connect event, we learned some compelling reasons for business to make local search a priority of overall marketing efforts and how using Google My Business should be a part of it. Keep in mind a successful local approach considers all aspects of digital marketing and how they work together. If you have questions about how your local business can maximize Search Engine Optimization or a pay-per-click strategy to reach your target market in an efficient and effective way, give us a call.