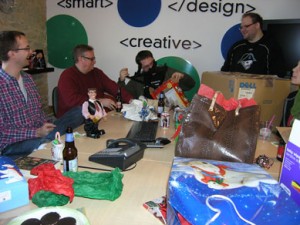 Like most companies, Trivera Interactive has embraced the holiday spirit – adorning our office with festive decorations, twinkling lights and even a handcrafted Mountain Dew tree. For our gift exchange this year, we decided to tackle the White Elephant in the room. Many of our employees had not previously participated in a White Elephant gift exchange which made this event even more entertaining.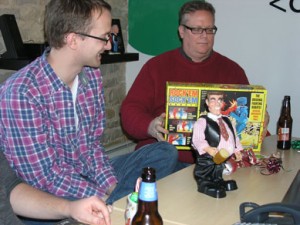 We followed the conventional rules of drawing numbers and allowing people to choose whether to open a new gift or steal one from a co-worker. The first gift stolen was an antique-looking key which doubled as a bottle opener and tripled as a wine corkscrew. Fantastic! Another popular gift was a singing, dancing, pudgy man holding a beer mug.
Hilarity ensued as we opened gifts such as a programmer's "survival kit" complete with the oldest software possible, a Joomla shirt and a 6-pack of beer. I'm sensing a theme here …
Everyone ended up with gifts to cherish. You cannot put a value on used firefighter boots and a book about surviving the Zombie Apocalypse. You just can't. And, one co-worker got the last laugh as I opened the final, unwanted gift, after all of my gifts were stolen. Yes, Kenny G.'s "Duotones" CD is the gift which keeps on giving. I was pleasantly surprised to discover the Best Buy gift card Tom had cleverly tucked inside the CD, however. So, all's well that ends well.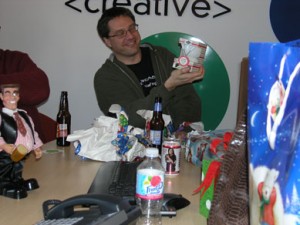 Our team had a lot of fun, countless laughs and we'll be inviting the White Elephant back to our room next year.
Happy Holidays from Trivera!
Laurie Vogt
Search Goddess and Chief Fun Officer