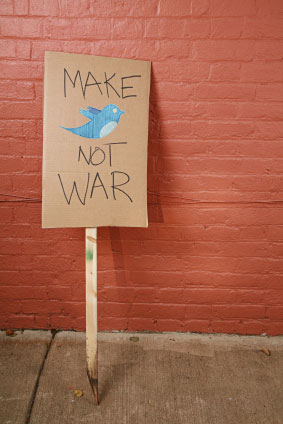 An amazing wave has swept this great city on a great lake.
Having spent all of my 56 years in Milwaukee, I've always been proud when I hear visitors gush about what residents know all too well: The people of Milwaukee are the nicest folks they've ever met. So it's only natural that a platform that is comprised of interaction and communication would flourish in a town like ours.
Social Media...and more specifically, Twitter and now FourSquare have made significant marks on the landscape of Brew City, including:
Almost constant media coverage of Social Media as a phenomenon.


Businesses like Streetza Pizza, AJ Bombers and Blatz Liquor whose successes have been almost entirely fueled by the support of the Social Media community.


A nearly 400 seat sellout for our Social Media University - Milwaukee, fueled almost exclusively by promotion using Social Media, with virtually no promotion in traditional media.


3-4 well-attended, targeted Social Media training/networking events every week, and so many large-scale Social Media events that it's been hard for us to schedule our next Social Media University Milwaukee without conflicting with one of them. (Note: SMUM2 is currently firming up its date and lineup ).


Great relationships built between dozens of local media celebrities and average folks (stories of which could easily be an entire blog).


The amazing new collaborative spirit that has emerged between many of the creative, technology, and new media people and organizations who have co-existed here for years, but have just met and begun to work together in the past twelve months.


Milwaukee consistently ranks among the top US cities in the Twtvite lists of upcoming social media events.


A recent Tweetup at AJ Bombers drew so many people that attendees were awarded the first Foursquare "Swarm Badge" in the entire Midwest. An upcoming Tweetup at our own office already has enough interest that it could potentially become the first non bar/restaurant to result in a "Swarm Badge" for its attendees.


As we commemorate the first anniversary of a Tweetup that the Tweetup Girls held at the Iron Horse Hotel that seemed to be a pivotal moment, some with whom I talk are convinced that this is unique to Milwaukee. When I go to Tweetups and other Social Media focused events and feel the Twitter-love, the sentimental part of me is prone to believe it. Other less parochial folks insist that, while it's big here, this same thing is happening in cities all over the country...and the world. And my logic has to admit that this must be the case.
Your thoughts? Is the Social Media love fest we're enjoying here in Milwaukee real and unique to us?
----

Tom Snyder is Founder, President and CEO of Trivera Interactive, a Midwest New Media firm. Tom is a Web guy, wine snob, music junkie, Ex-Milwaukee Radio Guy, HDTV expert, and political wonk.