"...pants on the ground, pants on the ground, looking like a fool with your pants on the ground..."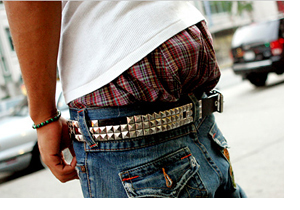 Last week, I went to the Social Media Breakfast expecting to be an attendee. Due to a speaker cancellation, I ended up being on the panel. The topic was "Snake Oil Salesman or Social Media Expert." With Trivera's production of last summer's Social Media University - Milwaukee putting us on the radar screen as local Social Media gurus (or Snake Oil Salesmen), I was a logical candidate.
The discussion moved to a point where the final answer was going to hinge on whether a Return on Investment could be demonstrated for a Social Media program. The issue became the difficulty of calculating an ROI down to a meaningful and accurate number.
Tallying the "R" is the easy part. Tools exist to allow you to measure hits, monitor click throughs, calculate conversions, and figure out the impact of Social Media sites on your top line revenue. Small and large companies alike are already trumpeting specific revenue success directly attributable to Social Media initiatives.
It's calculating the "I" that's the sticky wicket.
Social Media tools are often touted as being "free." Creating a blog, a Twitter account, a Facebook fan page or a LinkedIn profile can cost nothing. You can hire a company to create and administer a more robust Social Media presence, build a Facebook application, use tools like Radian6 or SM2 to monitor your brand buzz or create and distribute press releases using Pitchengine. While that will cost money, that outlay comes with hard numbers you can add to your equation. The part of this that drifts into the haze is the value of the time and effort that it takes to create and develop the relationships that will make Social Media campaigns successful. How do you count the cost in dollars for a company's CEO to write blog on a Saturday, a small business owner's dozens of Tweets during and after business hours, a salesman's participation in a LinkedIn discussion, a marketing director's evaluation of the growth of numbers of fans and followers, or a Customer Service Representative's ongoing discussions in a community site engaging with fans of their brand or defending it against detractors?
Without that hard number on the investment side, accurately calculating the ROI on Social Media is nearly impossible. So does that mean there IS no ROI? My friend Augie Ray responds to that that question with this great quote (one that he isn't even sure where it came from): "I'm not sure what the ROI is for putting on pants in the morning, but I do know I can't conduct business without them! "
So it is with Social Media. Many, maybe even most companies, can prove no real quantifiable ROI. But they do know that they're doing more business with it than they would without it.
Unfortunately, a successful Social Media program takes more effort than just putting on your pants. A Twitter account that consists of a tweet a week with no real engagement is like doing business in your boxers. A blog that hasn't been updated in months is like leaving your Levi's in the dryer. A LinkedIn profile without interaction, participation, or status updates is akin to walking out the door without your Dockers. A Facebook fan page with no entries, no promotion and a dozen fans is the equivalent of leaving with your Haggars in a heap on the floor.
Is there ROI in Social Media? There can be. A well developed Social Media strategy with the proper tools, patience and consistency will always have a higher ROI than one without it. Can you calculate it? Not to a decimal place.
But begin a Social Media program without them, and you could find yourself looking like...

Tom Snyder is Founder, President and CEO of Trivera Interactive, a Midwest New Media firm. Tom is a Web guy, wine snob, music junkie, Ex-Milwaukee Radio Guy, HDTV expert, and political wonk.