I Hate to Break The News: Effective Marketing is Hard. And Costs Money.

by Team Trivera on Jul 23, 2013
---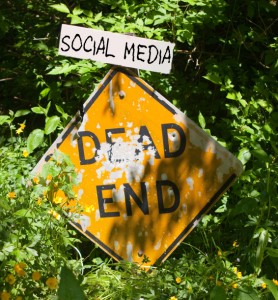 Broadcast advertising: DEAD! Print advertising: DEAD! Direct Marketing: DEAD! Trade Shows: DEAD! Web sites: DEAD! Email Marketing: DEAD! Long Live Social Media!!!!!
A lot of folks have been regarding me as a go-to source for Social Media marketing for several years. My company, Trivera, put on Social Media University, the first major Social Media conference in Milwaukee in 2009. So what I'm about to say may surprise you.
If I see one more expert blog about the demise of any traditional marketing vehicle at the hands of the next new shiny Social Media object, I just may vomit.
News Flash: NONE of them are dead, or even going away any time soon. And as much as some would like to believe that Social Media is the low cost silver bullet that will allow you to ignore other marketing vehicles, those people are kidding themselves.
Old time Marketers who have been around for awhile (i.e. since before SXSW), will tell you: New platforms don't make it easier or cheaper to market your business. They never have and they never will.
Decades ago, there were marketers who hoped that this new fangled TV thing would be their savior, and they'd no longer need to use radio to reach their audience. The smart ones (and even the not-so-smart ones) soon realized that they needed to figure out how to strategically use BOTH to reach different market segments.
More recently came the promise that the web was going to eliminate both print and broadcast media. While some forged that path, others stubbornly refused to even pursue web-based marketing. But again, the most successful marketers figured out how to use all of them together. It cost more, but generated an even greater return.
Then came the marketers who rejoiced that email marketing would deliver them from the "high" cost of print and direct mail. The wise ones found that successful digital campaigns, if done properly, could actually be even more expensive than the printed predecessors. But ironically, while even more expensive, those campaigns could still be more effective…and produce a greater ROI…when combined with direct marketing efforts using personalized URLs.
And now, most recently, businesses who resisted the high investment required for a strategically and professionally architected, effectively-developed, search engine optimized, well marketed web presence are celebrating the coming of "free" Social Media. With messianic fervor, they proclaim "the website is dead" only to be disappointed as they bounce from MySpace to Facebook to Twitter to Foursquare to Pinterest with Wac-a-Mole-like effort, only to become serial Social Media failures. Now Instagram Video and Vine are the new shiny objects that will help them achieve their elusive, unfulfilled dreams of amazing success with little investment.
"When this 6 second video I shot for free with my iPad goes viral, my brand will finally take off!"
Gag.
Here's the deal. Effective marketing is hard. It requires expertise. Chances are you don't have that expertise. So you'll need to find help from someone who does. And I don't mean a friend's son who "knows computers," a Social Media "guru" whose only credentials are that they've been on Twitter since 2009 or even an ad agency whose "digital division" is a WordPress theme hack.
An effective marketing campaign is one that will start first with an understanding of your brand (not your logo, but the promise of an experience). It's only by knowing why your ideal customers love, trust and do business with you, that you can then know where, when, why and how to find more just like them. Once you've done that, then you need to understand what will generate awareness, interest, desire, and action for that group, and then be able to effectively (and measurably) execute the plan to make it happen, regardless of the media necessary to get it done. That may mean Social Media, but it might not. That may not mean radio or TV, but it might. It might require email, Direct Mail or both. PR, content marketing, video, outdoor, and even the back cover of the phone book could each be ideal ways to reach them. One thing for certain: it WILL require a web presence. Whether it's a micro-site, an informational website, a fully functional eCommerce site, an intranet, the data source for a mobile app or all of the above, there will be a web component. Part of that web component will be the tools to measure the success of every marketing channel being used and monitoring what's working (so you do more of that) and what isn't (so you stop doing that).
Obviously a single individual will never have the knowledge and experience to do all of that. So what you really need is a team. A team with a combined knowledge of every one of those media, and how to use them all correctly, either independently or in concert with any of the others. A team that can measure your key performance indicators, and continually improve them. It requires a team that understands your brand, and can use the right mix of tools to reinforce that brand and increase sales. A team that understands…and can deliver…meaningful Return on Investment. Find that team and let them help you succeed.
Competition for reaching a market share and turning it into meaningful conversions will never be easy. Neither will the choices of marketing and transactional tools. There are no short cuts. It will require an investment. But the one thing that will never change is that strategic marketing done right will come back in spades.
And that is the only real silver bullet.
This article originally appeared as a guest blog at PhilGerbyshak.com