Every morning I walk my Boxer, Bella, before work. Any season, any weather. I particularly relish the summer walks for the obvious reasons, it's light and warm outside. Thus the past several months have been amazing! Yesterday, as I set out on my morning jaunt, I noticed a slight change in the air, a little fall bite. As I continued, my senses now keen to seasonal changes, I observed a couple other signs of fall: some morning dew on the grass and the sun not quite peeking it's full face over Lake Michigan in the east. Then, I was smacked in the face with reality. I saw a pair of siblings, a girl in a plaid jumper and her older brother in his uniform blue pants posing for picture on the front porch.
It's fall! It's time for mums, fallen leaves, cooler temps and back-to-school.

Overcome with the nostalgia of back-to-school, I started thinking about how digital marketing and website development is a constant cycle of learning. Team Trivera, for example, is always reading and doing the research for webinars, lunch and learns, Tip Tuesday episodes and for public presentations, such as our recent seminar at the BizTimes Expo. Whether we are getting a Digital Marketing Certificate from UWM, gaining the latest Google certifications or viewing various online marketing trainings, we are always learning and sharing that knowledge with clients, albeit virtually these days. Now, completely in the back-to-school spirit, I asked some of our clients what they have learned about digital marketing strategy in the past year! Here is what they shared (anonymously).
Local shop owner
"As a sales and marketing professional with 25 years' experience, I've used traditional marketing tactics such as brochures, trade publications, trade shows and newsletters to communicate to our current and prospective customers. Prior to our meeting with Trivera, I viewed the idea of having a website about the same as updating a brochure. I thought Google was akin to having branded signage attached to our building. In other words, I felt it was a necessary part of doing business, however I did not put much thought into how the website can be used to bring in new customers. The Trivera team has opened our eyes to the world of digital marketing services. They have shown us how important it is to set up and structure our website to optimize our marketing efforts using search engines. We are excited about the aspects of SEO and what it can do for our business in attracting new customers to our store front and e-commerce business."

Medical professional
"This photo was in a case study I presented virtually at a social media network meeting this summer. It shows a parking spot in our downtown lot, which now isn't used often. I laugh at how many times the configuation has been altered and used the photo saying "it reminds me of the typical social media strategy over the past decade." Start in one direction, completely pivot to another direction, move back toward the original direction, then settle for something in the middle."
While I was speaking about social strategy at the time, it really applies to any aspect of digital marketing. Change is constant, and you must be willing to adapt and innovate if you want to continue to succeed."

Healthcare marketer
"In the past year as de facto database admin, I've been working on using data to really segment our email campaigns. When we can determine the nature of a client's relationship with our brand, we can make sure they are getting content they want. We've seen success when we make our messages more and more tailored.

I think the next step in this is going to be working on what kind of content we're putting out in our email campaigns. We certainly know what we want to tell people: new programs opening, this great thing one of our docs did, etc. But that's not necessarily what people care about. Relevant content is important. I feel like a lot of people forget that, especially in digital channels. It's easy to feel like we did our work because we sent an email, put it on social, posted it on the web. But, there are still times where the metrics say our message is falling flat. So, something for us to keep improving."

Although my son is still too young for school, I know it's not too late for me to continue learning about digital marketing, social media electronic CRM methodology and inbound marketing and sales. What about you?
About Jamie Rinehart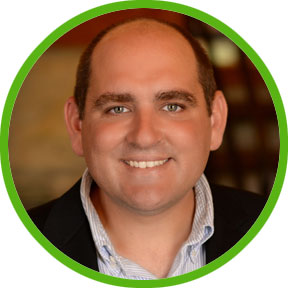 Jamie leverages his 15 years of digital marketing and advertising account management experience to help new Trivera clients develop strategic digital marketing plans that will help them acheive their business and brand goals.
Photo Credit: Adobe Stock