Yesterday was Be Late for Something Day. To celebrate, we're posting a blog about it one day late! There are many reasons people are often late or miss deadlines. In this case, we deliberately missed be late day because we were enjoying Labor Day weekend with our families. (And we thought it would be fun to be late for #BeLateDay.)
I know - easier said than done. But trust me, once the plan is done, you'll find that it's much easier to create content when you know what to create. Your first question won't be, "What the heck should I blog about?" Instead, your first question will be, "I need to write a blog about my three favorite pizza places (or whatever). What do I know about this?" Much easier!
Here are some questions you should ask yourself when planning your content:
What do we want the people who interact with our content to do?
Why will people care about what we want to say?
What will we measure?
Who are our audiences?
What are the optimal content types for our audiences?
How can we reuse and amplify what we create?
If you can answer these questions, it will be much easier to decide whether to start a blog, or a Facebook page, or an Instagram account. These questions will help you think of useful topics and how often to post. And they'll help you figure out how you can repurpose your content for maximum impact.
Content marketing is well worth the effort. Once you start thinking, you'll realize you do have a lot to say. If you're still having trouble figuring out what to say and where to say it, give us a call. We're here to help!

About Christina Steder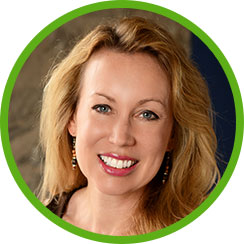 With 15+ years of experience in consumer product, professional service, and nonprofit marketing as well as brand strategy and client service, Christina provides strategic direction for our clients - linking their ongoing online and content marketing needs to business goals and ROI.

Photo Credit: Adobe Stock