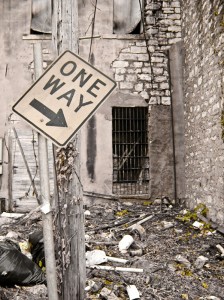 By Tom Snyder, President and CEO of Trivera
Over our 20 years in business, we have seen most of our customers fall into one of two categories. The first is the type that make their web presence a focus of a digital Marketing Stratgey, constantly updating, supporting, measuring, analyzing, improving and investing in it. The other type are the ones who contracted us to build their site, and despite our recommendations that digital marketing needs to be an ongoing process, and not just an event, still treated their launch like a drive-by. The very vehicle that was supposed to help their business flourish in the growing digital economy now stands as a testimony to four, nine and even thirteen year old technology. What may have been state of the art brand re-reinforcement at one time, is now the brand killing equivalent of a dilapidated building in a bad neighborhood.
When pressed to consider an update, a new focus, or additional inbound marketing efforts, the typical response is "we just don't have the money." While that might seem like a justifiable and economical approach, it's short sighted. Your neglect is actually costing you money.
Here's why:
1.) Not regularly updating your website's content causes it to drop in ranking in search engines. Lower ranking means less traffic, resulting in fewer sales.
2.) Not executing a sound inbound marketing plan reduces the number of potential visitors who even know your site exists. That means less traffic, resulting in fewer sales.
3.) Not having an organic search engine optimization plan puts you behind all of your competitors who do. That not only means less traffic and fewer sales for you, but also more traffic and more sales for them.
4.) Not keeping up with the current best practices for navigation and visitor expectations for functionality reduces the number of site visitors who become customers. That means traffic is coming, but leaving without buying, resulting in fewer sales.
5.) Not keeping your Content Management System and operating environment up to date leaves it vulnerable to hacks and hijacks, causing things to not work in your site that you may not even be aware of. Sometimes it means your site is offline entirely. That means traffic is coming, getting frustrated because your site doesn't work properly...or at all...resulting in fewer sales (and maybe even thinking you've gone out of business).
6.) Not having a responsive site built around user journeys loses the growing number of customers who use smartphones and tablets as their preferred web device. That means less traffic and more visitor frustration, both of which result in fewer leads/sales/conversions.
I've said before...ad naseum...that your brand is not your logo, it's the promise of an experience, and everything you do either reinforces or erodes that brand. And a crappy old website erodes your brand just as badly as letting your building get run down, not being able to provide the product or service your customer expects or making them put up with a poor salesman or CSR.
With your website, you're either moving ahead or you're falling behind. Thinking that doing nothing keeps you where you are is a delusion. The time to begin getting serious is long past, but before you start executing a hodgepodge of tactical efforts, the better plan for long term success is to take a strategic approach.