On January 11, 2018 Mark Zuckerberg announced major changes to the Facebook algorithm. While these changes were about, "helping you find relevant content to helping you have more meaningful social interactions," they also meant Facebook users would, "see less public content like posts from businesses, brands, and media."
That's a big deal.
Millions of businesses integrated social media into their marketing tactics because platforms like Facebook offered the opportunity to connect with customers for nothing other than the cost of the labor required to produce posts and maintain the page. Unfortunately, this led to an explosion in business-related content on social platforms like Facebook. A recent Buffer/Buzzsumo study showed that the world's top Facebook business pages are posting 24% more content on average. That's an additional 20,000 pieces of content EVERY DAY.
Not surprisingly, the study also showed that Facebook interactions with business posts are going down. Dramatically. Engagement for most business content has dropped more than 50% from Q1 2017 to Q2 2018. Mark Zuckerberg wasn't kidding.
What once was a relatively easy and inexpensive way to reach your customers and prospects is now a tactic that requires investments of both time and money to be successful. Fortunately, success is not out of reach. These three Facebook marketing tips can help you improve your results.
Your Facebook content strategy should focus on quality over quantity. Facebook cares about showing its users posts that spark engagement. Review your business' Facebook posts to see which posts garnered likes, shares, and comments. Then plan your strategy around those topics, keeping in mind that although engagement is decreasing for all kinds of content, images still receive more overall engagement than video posts. Buffer's study showed that the ideal number of posts was somewhere between 1 - 5 posts per day. Be sure to monitor your posts and respond whenever possible. You want to keep the conversation going!

Optimize your Facebook content for mobile. There's a reason Google has a mobile-first philosophy when ranking websites. Mobile matters. Especially for social media. When you're creating your 2019 content strategy, think about how your posts will look on mobile. Use vertical videos vs. horizontal. Keep your captions short. Remember that people often check their social feeds with the sound off, so use captions if you can.

Pay to play. I don't care what Mark Zuckerberg said - Facebook is a business and he's in business to make money. This algorithm change doesn't mean you have to advertise to get your content seen, but it is unfortunately the only way to get your message in front of the largest number of people (including your own followers.) Advertising is particularly important if you are trying to drive traffic back to your website because Facebook prioritizes content that lives natively on the Facebook platform. So if you upload a video to Facebook and then share information about that video, your post is more likely to be seen than if you make the user click a link to your website to view the video.
Social media is an important way to communicate with people who care about your brand. It can also impact your Search Engine Optimization efforts. With some advanced planning, and perhaps some adverting dollars, you can develop a strategy that will help Facebook remain an important part of your integrated digital marketing strategy in 2019.
About Christina Steder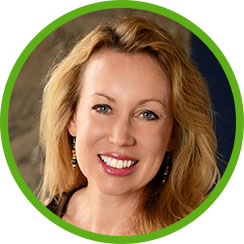 With 15+ years of experience in consumer product, professional service, and nonprofit marketing as well as brand strategy and client service, Christina provides strategic direction for our clients - linking their ongoing online and content marketing needs to business goals and ROI.

Photo Credit: Adobe Stock